Mt. Magazine is a newly developing Arkansas State Park, and Arkansas' Highest point standing at 2, 753 ft. Mt. Magazine offers anywhere from 100 to 200 Bluffs and cliffs, and over 90 established routes. Due to the # of cliffs, you can find just about any difficulty level climb. Along with the cliffs are spectacular streams running down the mountain. Mt. Magazine is located Directly north of Havana and South of Paris, or around 75 miles west of Little Rock. If you've never made the trip to Mt. Mag...... You are really missing out on some awesome climbing!!



03-14-2001
We spent a day at Mt. Magazine.To warm up I took the guys to reppell the 160 ft Dripping Shorts 5.13d. That got everyone's Morning adrenaline going real good. Because of the rain (and because it's just to damn long of a climb), we chose a nice little finger crack about 30 yds down to go up.
The Crux was located at the top, a small roof with a weird top out. I ran some webbing down the roof, to be safe. Turns out it just gave everyone the confidence to do it alone. We averaged the rating at 5.9 with a 5.10 crux. Just beside that was what I named "widow maker" 5.11 with a nice boulder problem for the crux at the bottom of the route. We only had a few falls, because of the mist of course. Mt Mag really offers some nice climbs, and allot of areas. We'll be back up their soon and
I'll make sure there's pics this time.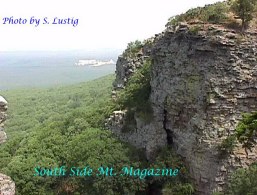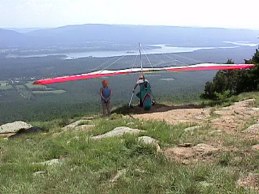 LOOK FOR NEW PHOTOS SOON !!!





Recommended Routes




Solitaire 5.10a** - Natural

Nice Crack on eastern side of Black on Blonde wall. Tops out with a traverse at a roof to a nice ledge.

This is a nice climb and offers adequate protection.




Cruise Control 5.7* -Natural

Great Natural Climb. Obvious flake in the center of Crag Central wall. there's a huge cedar tree for top ropes at the top. This is a perfect beginning climb, or warm up climb.




Centerfold 5.8** - Natural

Obvious crack in the center of the Centerfold wall. Another Mag favorite and great beginner crag.

Easy place for a top-rope, and just a fun fun crag to climb. Usually crowded on the weekends.










From Hot Springs- Take Hwy. 7 north to Ola , Then follow Hwy. 10 from Ola to

Havana. At Havana take Hwy. 309 up the mountain.




From Little Rock- Take I-40 west to Russellville. Exit onto Hwy. 7 South toward

Dardanelle. At Dardanelle Take Hwy. 10 to Paris. At Paris

Take Hwy. 309 up the mountain

From Fort Smith- Take Hwy. 22 east to Paris. In Paris take right at 2nd stop light
follow until Hwy. 309. Take 309 to South scenic loop.




Cameron's Bluff Campground is located in a central location to the bluff lines around the south scenic loop. As of now it is at no charge. Each sight is setup with table, fire pit, tent pad, grill. Campground area offers bathrooms and running water. To get to, turn off 309 by visitors center at top of mountain.


_____________________________________________________________________________________

Copyright 2000 © All Rights Reserved

Outdoors Ect. is a subdivision of Shepco Enterprises

Various logos are property of their respective owners

Best viewed IE 5.0
1152 x 864